What was your favorite TV show growing up? My all time favorite show is Thomas and Friends. It's about a train named Thomas and his friends who usually have to do a lot of business for Sir Topham Hatt because he is a poopyhead. However, I discovered a lost episode that was kind of disturbing for my experience. One day, I was at school talking to my friends about Thomas And Friends. And by the way, My name is Stella. Thomas And Friends is usually watched by most 4 to 9 year old boys. But I still have a childhood too including other Thomas The Tank Engine fans. I am only 16 years old.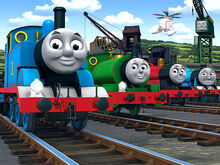 A few days later, I was on my computer looking up Thomas And Friends episodes on the computer. I have even seen a meme on Steamed Hams on Youtube about this show. After I watched it, I got in my car and drove off to the Goodwill store. As I was picking up a few tapes, I noticed that my 5 year old son's birthday was coming soon. So I went back to the VHS aisle to check for a Thomas and Friends tape. I found the movie titled Thomas And The Magic Railroad and something I couldn't explain.
It was a video tape titled, "Thomas And Friends: Episodes 1-10." It was written in a blue sharpie. It costed five dollars. I bought the tape and drove home. I forgot to tell you, My 5 year old son is named Vince. 3 days later, His birthday came. He thanked me for the present I got him, But he hadn't watched it yet.
One night, I was forced to babysit Vince while my parents went to see Guardians of the Galaxy Volume 2. I thought that my son should watch the DVD ever since he got it for his birthday. I took Vince upstairs and started the DVD. Meanwhile, I went to the living room and ordered a pizza from Domino's. I was watching All Dogs Go To Heaven on TV when Vince came out of his room looking pale as a sheet.
"Stella?" He asked.
"Are you alright?" I replied.
Vince looked like he was sick. As I could tell, He was. I told him to get his pajamas on and get to bed. As I was giving Vince his medicine, He asked me something obviously weird. "Why did Sir Topham Hatt die from an atomic bomb?"
I was confused. But I later answered his question. "I'm sure Sir Topham Hatt didn't die!" I shut off the bedroom light and took the DVD to give it a watch over.
I put it in the DVD player and started watching it. I played episode 1 and it began. But things were off! The windmill was worn down, Thomas didn't have his coaches Annie and Clarabelle on him, And the river looked like it had blood. Another thing I noticed is that as Thomas was going under the bridge, Bertie The Bus crushed a kid to death.
The episode started with Thomas in Tidmouth Sheds crying. The thing is, It didn't sound like cartoon crying, It sounded like a man was crying. Meanwhile, Percy went over to Thomas and he talked to him a bit.
Percy: Thomas! What's the matter?
Thomas: Oh Percy, I don't think I am a really useful engine! But Sir Topham Hatt punishes me sometimes!
Then it cut to another scene, Percy was on the little engines bridge and he slipped off. Next it was that bull who scared the shit out of me as a little kid. He stared at me for about 5 minutes! I got my phone out as the scene went on. After 5 minutes, The episode continued. The next scene showed Thomas taking a few children to the seaside. 
Meanwhile, An EAS came up on the DVD and it was about the Island of Sodor. It said that an atomic bomb was going to hit Sodor in 15 minutes. Thankfully, It was in the cartoon. It then cut to a scenery of the beach when all of a sudden a flash of light was shown and a mushroom cloud was seen. There were sights of the children's skin melting off including Sir Topham Hatt.
The next scene showed all of Sodor being burned down. It faded to show a basement that had trains in it. The trains and other vehicles in the basement were Thomas, Gordon, Henry, James, Percy, Edward, Duncan, Diesel, Salty, Duck, Donald, Douglas, Bertie The Bus, Sir Handel, Peter Sam, Rheneas, Skarloey and Duke. There was also sights of a few drivers and fireman. Including a girl named Nancy who was featured in one episode.
As this scene went on, Something flashed on the screen for a split second. I rewound it a few times until I saw something that shocked me. It appeared to be a picture of Riley Anderson from Inside Out on a crucifix. But what made it horrifying is that she was naked and there was blood surrounding her stomach. And she had a scrape on her knee.
That was disturbing! And then it cut to the credits. However, Thomas was usually at the end titles, But it was Percy.
I have no idea what I just watched. 3 hours later, I got on Gmail and wrote a letter to Britt Allcroft (The Creator of Thomas The Tank Engine) After 5 minutes, I got a reply which said this:
"Dear Stella Russell,
Thank you for taking the time to write a letter to me. I am very sorry about the episode of Thomas And Friends you watched. Back in 1987, There was an animator named David Mason. He wrote the missing episode to fool us all. I don't have the time to explain the rest. Thank you for writing to me.
Best Wishes, Stella Russell."
I never would have experienced a thing like that. If you see it, Don't pick it up!
.
Community content is available under
CC-BY-SA
unless otherwise noted.